I admit this is the second soy-flavored post within a week. I have good reason: if you are a vegetarian—and I used to be one—some of the best flavor boosters such as bacon, prosciutto, and ham are out of reach to add depth to your soups, stews, and daily dose of vegetables.
Here is where soy sauce comes in, and boy does it come in with its amazing ability to transform even the lowliest food. Sunflower seeds are a case in point. I can't blame you if you find them rather plain. For me, sunflower seeds are at the bottom of the nut chain when it comes to snacking unlike say golden sesame seeds who hug your palate with their sunny flavor. Or walnuts and almonds with their enticing delicate scent. Richly aromatic pecans obviously need no convincing. But sunflower seeds? I've always found them pretty "blah", and I mean this is a compliment.
This changed years ago in California when I first had a version of these sunflower seeds prepared by students. Once you try them, you will understand why I have since recreated this snack from memory a gazillion times. Addictive! Place a bowl in front of your dinner guests when they have their first drink, next to olives and dried cranberries—a perfect trio of salty, sweet, and briny. Or pair them with different cheeses and roasted grapes afterwards. In my case, I pick them for all-day snacking year-round.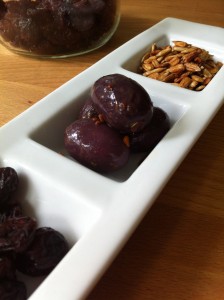 Yields: 2 cups
Gluten-free
Vegetarian
Vegan
2 slightly heaped cups raw sunflower seeds
2 tablespoons reduced-salt soy sauce (use gluten-free if needed)
2 tablespoons water
1 Place a rack in the center of the oven and preheat to 350 F. Combine soy sauce and water in a small bowl.
2 Spread the sunflower seeds on a large baking sheet and drizzle with the soy sauce mixture. Using your hands or a wooden spoon, thoroughly mix to distribute well.
3 Roast for 15 to 18 minutes, turning once with a spatula halfway, until the seeds turn a lush chestnut-red hue. And the smell—divine! Immediately scrape the seeds onto a large plate to cool. Be prepared that they will stick to the baking sheet so you have to loosen them with the spatula, and some will jump to the floor.
4 Store in glass jar with a tight-fitting lid. Roasted sunflower seeds will keep in a cool dark place at least 1 week. Needless to say you don't need to worry about this as they will go fast.